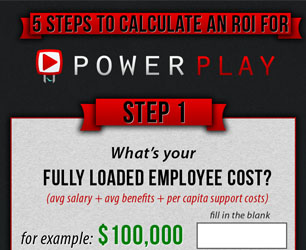 If you've just heard of Powerplay and have watched the demo video, you might be thinking to yourself: Cool, it's a neat new user interface that increases Salesforce.com user adoption, but is that something I really need? Is what we're doing right now so bad and do we really need ANOTHER Salesforce add-on? And by the way, just what kind of ROI can I expect? And whatever ROI you tell me, it's probably a good idea to cut that down by 75% because, let's face it, tech marketing ROI's are typically wildly optimistic.
I'm with you! All of those are valid points. So allow me to provide some example numbers that will help you arrive at an ROI for your organization. You might also check out the infographic worksheet to the right.
Let's start with a fully loaded employee's cost and work backwards from there. For our example, we'll use $100,000 per employee per year (this number should include average salary plus all benefits and related operational expenses) Some basic math tells us that $100,000 divided by 52 weeks in a year divided by 50 hours in a realistic work week ends up at $38 per hour per employee. If you operate a call center, it's lower. If you run an in-house legal group, it's a good deal higher. But we'll go with $38 p/hour p/employee for the sake of argument.
Now let's look at Salesforce.com usage. How often is it used, and how long does it take? In the interest of brevity, I'm going to stick to a typical sales rep scenario. Most sales reps I've worked with have a non-Salesforce system they prefer (outlook, google calendar, various iphone apps, pen and paper—something usable) because it's faster. They go through the week putting their notes into this faster, easier to use system, accumulating business cards, winning Cadillacs and steak knives, closing deals, typical sales rep stuff. Then, the day before the weekly sales call, they spend the whole day frantically putting those notes into Salesforce. I have seen this time and time again, and I estimate people spend 4-8 hours every week doing this. This does not include generating reports, which might take another 1-2 hours per week depending on where you are in the quarter, and the type of daily usage that involves looking up phone numbers or checking an account or opportunities activity history, which I'd estimate at another 1-2 hours per week (at least!).
So let's tally that. In a typical week, many sales reps I've worked with spend between 6 and 12 hours per week using Salesforce. That doesn't seem outrageous. But let's take it a step further and multiply it by our conservative employee time cost to get: $228-$456 per week. Let's average that range before continuing on, and get a cost of $342 p/ user p/week. Still doesn't sound like a big enough number to ring any alarms. But how about per year? Well, 52 weeks of that is $17,784 per year. Wait, what? That seems high. That seems like over 17% of what you're paying people for is to use salesforce. That doesn't include the $1,500 p/seat p/year for a Salesforce Enterprise license, which brings your number up to $19,284 or nearly 20% of an employee's cost. How did that happen?
But it gets worse. That's one person. You've got a sales team of 50 guys out there hustling hard every day. So that's $964,200 per year you're paying your sales people to use Salesforce.com. Holy smokes Batman, get the bat mobile because there's a crime being committed!
So here's the Powerplay value prop: our tests show using Powerplay reduces the typical transaction time for Salesforce by 50% or more (sometimes as much as 90% for editing lots of data or managing activities, which is a common activity but pretty slow with Salesforce out of the box.) So that means, and here comes the overblown ROI number, but look at the math and tell me how overblown it really is: A team of 50 sales people could save something like half a million dollars a year. 50 licenses of Powerplay for a year cost much, much less than that! And by the way, that doesn't include the amount of time your reps will now be selling instead of using Salesforce, which can only increase your ROI further.
So take a moment to imagine your business in 5 years with that level of efficiency versus, well, without it. Put another way, imagine what you could do with an extra $500,000 available each year. Could you grow faster? Could you be more competitive on price? Could you gain market share against your competitors. Now imagine your business 5 years from now without that extra money. Yikes. And of course, it will be different for your business depending on your specific circumstances. But again, plug in your numbers and check the math. Or just buy Powerplay and save a ton of money.